Gear Review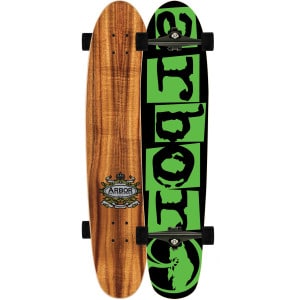 $169.50
2 Reviews
See all product details
perfect blend...
By tory May 20, 2010
... of long and short board. I'd been out of the skate scene for a few years and I missed it a lot. Originally I was going to build another flipstick but I decided I wanted something that was easier to push around on. This thing is the perfect in-between. It eats up cracks and gravel WAY better than the hard little tricky wheels. I had no problem taking this home at night- crunched over all sorts of stuff in the dark and didn't lock up once. Plenty fast too: only a few pushes will take you over a block thanks to the greaseball ABEC 5 bearings (not ABEC 3 as described). I've only done a few little hills but the Bug feels plenty stable at higher speeds than I'm used to. It's only 3 or 4 inches longer than a regular board (though with a longer wheelbase), which makes this thing easy to maneuver around at low speeds too. My favorite thing about the small size is that I can still do that skate-style launch: where you begin running while holding the nose, throw it down, jump on, and speed off all in one move... unlike a true longboard where you have to set it down on the ground, point it in the correct direction, and gingerly push off. This thing also snaps up curbs NO PROBLEM, due to its stiff (not gumby) construction. No stepping off and picking up your board for tiny obstacles like the longboarders. I even managed to jump down a three-stair, fifty a few curbs and do some lazy kickflips. You can definitely feel the added weight in the trucks which limit your altitude, but this thing is still plenty fun for little shenanigans.

If you're looking for something that can cruise around town with scalpel-sharp low and medium speed maneuverability, yet still stash easy and pop up curbs like your tricker, this is it. Definitely cool styling on the koa board, everyone wants to ride it as soon as I step off. Pick one up and start pushing... and fall in love with rolling all over again.
View Details: Arbor Bug Koa Longboard
Nailed It? 0 Yes
Tech Specs:
Deck Material:

maple, koa wood

Deck Length:

36 in

Deck Width:

8.5 in

Concave:

full

Wheelbase:

20 in

Wheel Type:

Arbor Street Series

Wheel Size:

65 mm

Wheel Durometer:

78 a

Bearings:

ABEC 5

Trucks:

9in Gullwing Charger

Recommended Use:

bowls, ditches, cruising

Manufacturer Warranty:

2 years