Gear Review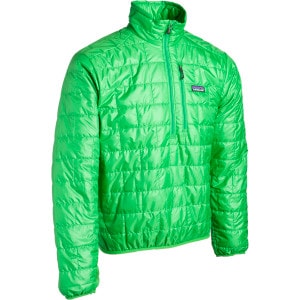 $169.00
$101.40 for discontinued items
3 Reviews
See all product details
great great jacket
By paulee.71672848 November 12, 2011
This jacket is amazing. It is extremely warm for the weight.
Uses: mid-layer(insulation) under a mountain hardwear alchemy soft shell.
With that said, i feel that this jacket is fragile. It is pretty easy to accidentally rip a hole in it. So i would HIGHLY advise wearing it underneath a softshell, or more durable fabric that can take a beating. Especially if you wear backpacks all the time. I can't imagine the shoulder's lasting long from the abuse of the backpack straps.
This pull over does wonders underneath my softshell. it is really as though my upper body has its own climate because the jacket is great at keeping anything out of it, and maintaining the temp of your body.
View Details: Patagonia Nano Puff Pullover Insulated Jacket - Men's
Nailed It? 0 Yes