Gear Review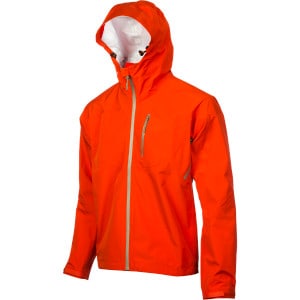 $129.00
$77.40 for discontinued items
6 Reviews
See all product details
Weird Sizing, Wrist Cuffs are Junk
By Michael Genovese November 18, 2012
I really, really wanted to like this jacket. The material is supposedly awesome and it seems well designed with the pit zips and hood/collar adjustments. It packs down well and is relatively light

However, as soon as I put on the jacket I knew it wasn't going to work out. It was slightly tight in the chest, but that wasn't the issue. The issue was that the jacket cut up into my armpits. The sleeve opening just seemed way too skinny to be realistic for an XL. All the other Stoic gear (merino shirts, vaporshell pants, softshell pants, etc.) I've purchased has fit fine.

The other issue I have is the wrist cuffs. I saw some other complaints and I figured people were just being overly critical. I was wrong, the design is just rubbish. The soft velcro part is fine, but the adjustable strap is made from some type of silicone with little triangular nubs on the opposite side. I apologize for the potato picture, but it's the best my non-smartphone can handle.

Overall it's a good material, decent design, but just didn't work for me.

C, wouldn't discourage, but probably wouldn't recommend to others.
View Details: Stoic Vaporshell Jacket - Men's
Nailed It? 0 Yes
Tech Specs:
Material:

Vaporshell, 100% polyester ripstop

Fabric Waterproof Rating:

28,000 mm H2O

Fabric Breathability Rating:

46,000 g/m²

Hood:

yes, full-time

Fit:

3-D Ergonomic

Pockets:

1 chest

Seams:

fully taped

Claimed Weight:

14 oz

Recommended Use:

Ski touring, backpacking, hiking, climbing

Manufacturer Warranty:

lifetime