Gear Review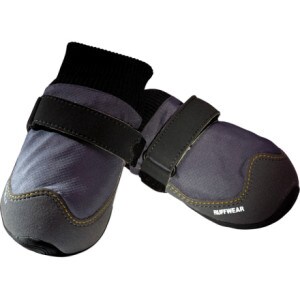 $49.95
3 Reviews
See all product details
Pretty stiff, but the fit is good...
By Diana Miller February 7, 2011
Unfortunately the material (I guess the blue part is tough leather?) is really kinda stiff, but they do their job well, and if you measure your dogs' paws accurately (go to ruffwear.com, click on the boots, then click on 'how to size') they fit really well too. We also use baby socks under each of the boots too, as they advise you to buy liners to use under the boots on ruffwear's site to help achieve a snug fit, but baby socks are cheaper, and they go up on our dogs legs nice and high... Fortunately we haven't had any problems with the top of the boot hurting the area around his dew claw. I think this boot is just a little bit taller than the other boot that we tried, (the Bark n Boots Grip Trex boots with the vibram sole), which hit right where the dew claw sat, which was terribly irritating for our dog, not good!
*Heres a little FYI- you might want to check out geartrade.com, they have a bunch of these boots right now for over 50% off, and its all from the returns that come to backcountry.com...They prob don't want that advertised, so shhhhhh, so don't tell anyone, lol....(just go to geartrade.com and type in ruffwear in their search engine). Hope this helps someone!
View Details: Ruffwear Bark'n Boots Skyliner - Set of 4
Nailed It? 1 Yes