Gear Review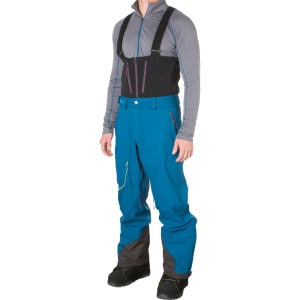 $119.50 for discontinued items
3 Reviews
See all product details
Initial Impressions
By Dave Marcus November 15, 2011
I received my large Stoic Bombshell bibs today, in the Deep/Vintage color.

Let's start with construction. This is my first experience with the Bombshell fabric and it's a good first impression. I'm coming from a set of Arcteryx Theta SK bibs which were Gore XCR. Bombshell is extremely flexible and supple and the mechanical stretch is nice for a garment that will be used in active pursuits. Seams are all welded, except for the joint between the Bombshell and the boot-wear-area fabric (keprotec?) which is sewn and taped. The internal gaiters feel good; they seem to be made of a coated nylon with elastic bottoms and a silicone seal to keep out snow. My boots aren't here at the moment, so I can't test the seal. Stoic decided to use normal zippers for the bottom of the legs, so they aren't waterproof, but they have an overflap and underflap to keep water out. A snap holds everything together at the ankle. Zippers all work perfectly and the pockets are in convenient, easy to reach locations. Pocket zippers are all waterproof. The zip-off bib seems well designed and tapers well from mid-chest to waist. The straps fit me perfectly as-is, although I can imagine that if I needed to make them shorter, the velcro could be awkward. They have the Stoic logo embossed on them - nice little detail.

Now, the fit: I'm 5'10", 195-200 lbs, 34" waist and 31" inseam. The waist of the pants fits loosely, but well. I think they are true to size, which is to say, they are baggy on me. I would need to use the velcro waist adjusters if I wanted to wear the pants sans-bibs. I have plenty of room in the thighs for whatever layer I may need. I do feel like I'm wearing bell-bottoms right now, but I think that feeling will go away when I have boots on. Length-wise, the cuffs touch floor with Crocs on (don't judge - they're my house shoes) , so I think they will be long enough to cover my boots without interfering with my bindings. The bib portion fits well on my 42" chest, with plenty of room for a 200-weight merino top. It has some decent stretch to it - more than the Bombshell fabric - so there is room for a mid-layer as well.

I have some room to grow in these, so someone my size shouldn't worry about the holidays making his large Bombshell bibs feel like biking shorts. I imagine a large would fit someone at least 6'3" with no trouble and there is room for at least a 38" belly.

Overall, I'm extremely pleased with these bibs. First ski day in these is Saturday, so expect an update.

UPDATE: I ended up exchanging the larges for mediums. They fit much better. No more bell-bottom effect and not baggy - a much more technical fit. I won't need to use the waist adjusters if I rock the pants sans bibs. Also, chatted with a BC rep today after receiving the mediums and there is NO RECCO reflector in the Bombshell Bib. Not a huge deal, but it does reduce the value a bit and also reduces the effectiveness of the RECCO reflector in the Bombshell Jacket. Rating changed from 5 stars to 4, because the RECCO was a selling point for me, but the bibs are still pretty sweet.
View Details: Stoic Bombshell Bib - Men's
Nailed It? 4 Yes
Tech Specs:
Material:

[shell] Bombshell (3-layer, mechanical stretch)

Fabric Waterproof Rating:

20,000 K

Fabric Breathability Rating:

15,000 g/mē

Fit:

3-D Ergonomic

Venting:

inner thigh vents

Side Zips:

yes

Gaiters:

yes

Seams:

fully-welded

Waist:

belt loops with button closure

Pockets:

(pants) 2 front hand, 2 back, 1 thigh cargo, (bib) 2 vertical zip

RECCO:

no

Weight:

1 lb 13 oz

Recommended Use:

technical snowsports

Manufacturer Warranty:

lifetime