Gear Review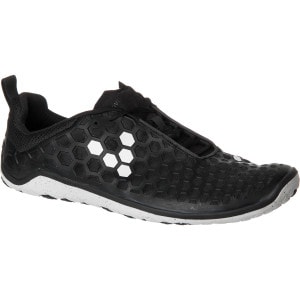 $129.95
2 Reviews
See all product details
I'm not sure how I feel about these
By chr4900296 September 17, 2011
I'm a crossfitter and I've been wearing Vibrams for a long time and I love them. But I wanted a shoe with a whole toe box for things such as box jumps and lunges, I also don't like sprinting in my VFFs. I got these and they had pros and cons. I really liked running with them but had a few problems with them for Crossfit Wods.

Pros:
Very minimalist
Flat sole (no heel raise)
Very flexible
Light

Cons:
Still more sole than the VFFs
The rubber on the upper part of the shoe rubbed my skin raw on my right foot although I was wearing socks (may be due to size or just a fluke, didnt' happen in my left foot)
I believe they ran a little big (size charts often contradict each other on different sites)

I thought they were a very good shoe. I think if I got a smaller size they might fit better. I wear an 11.5 and I got 45's in VIVOs, a little too big if ya ask me. Other than the size, the sole thickness, and especially the rubbing on my toe, I liked them. I think I'm gonna try a smaller size before I write them off. I like the VFFs for things like dead lifts/cleans because I am tall and like to be closer to the ground for these. I think if I take the insole out of the VIVOs they will be within .5 mm sole thickness of the VFFs and then I'll be good to go.

I only bring up the VFFs in this so much because typically if your looking for a barefoot shoe, the VFFs are the best to compare a shoe with. If you're a Crossfitter who has been lifting in anything but VFFs then you will not be disappointed in these. And if you do wear VFFs, order a size small and take the insole out and I THINK you'll be good to go.
View Details: VIVOBAREFOOT Evo III Running Shoe - Men's
Nailed It? 0 Yes