Gear Review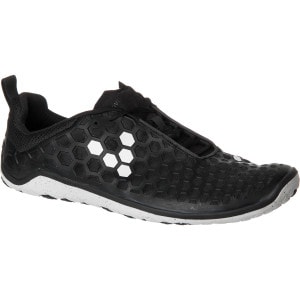 $129.95
2 Reviews
See all product details
Great shoe--materials issues
By dalto April 12, 2012
A quick review. My other one must be attached to an older model shoe page. These are super comfortable--I often feel more barefoot in these than in VFFs because I don't have anything constricting my toes. At least for me, the shaping of the shoe is perfect and feels extremely natural.

Although I'm giving it five stars, I have two problems with this shoe. I don't know if these issues were addressed in subsequent iterations of the Evo. First, as other reviewers here and elsewhere have said, the plastic net that forms the upper will cause blisters when it folds and presses against the tops of your toes. This has basically kept me from running barefoot in these shoes, which is what they're supposed to be for! I love the feel so much, though, that it's a worthwhile sacrifice. (And, to be fair, I've also had trouble going sockless with the Saucony Hattori.)

A related issue is that this semi-hard (but flexible) plastic upper cracked and developed a pretty sizable hole after 500 miles. Supposedly one of the benefits of going minimal is not having to worry about retiring your shoes every 400-500 miles (although, to be consistent, if one is a minimalist and wants ground feel, then there's no need to worry about retiring conventional shoes when the midsole loses cushioning), but I'm faced with the prospect of junking these soon if the split gets any worse. I certainly can't wear them now if I'm worried about water getting in.

Those are disappointments, but it's still such a great shoe that I give it all the stars.
View Details: VIVOBAREFOOT Evo III Running Shoe - Men's
Nailed It? 0 Yes