Gear Review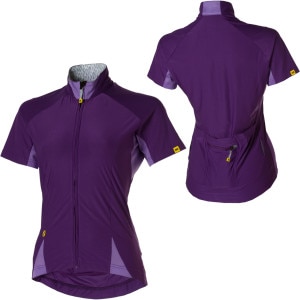 $79.90
$23.97 for discontinued items
1 Review
See all product details
Cool, feminine, functional.
By sara.j.cla2370848 July 9, 2013
Things I loved:
- very light, stretchy fabric
- coordinating arm warmers are as attractive as they are functional
- 4-pocket configuration lays flat when not in use and expands to easily and securely hold the essentials

Things I liked:
- contrast fabric inserts are flattering and placed to let off excess heat
- fabric lined collar makes it stand up or lay flat as desired when unzipped

Things I could do without:
- it's short, REALLY short. When I zip it up all the way, the rigid fabric collar makes it pull at my neck.
- order at least a size up; this jersey is skintight
- the white color is pretty sheer when stretched (and especially when sweat upon)
- no gripper at the bottom hem, so while it lays beautifully out of the saddle, it has a tendency to ride up while cycling

Bottom line: I wouldn't pay retail, but at DoG prices, this jersey is a winner for hot summer rides.
View Details: Mavic Cloud Short Sleeve Women's Jersey
Nailed It? 0 Yes