Gear Review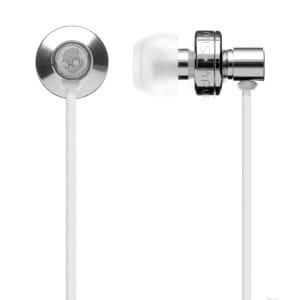 $45.47 for discontinued items
4 Reviews
See all product details
Awesome!!!
By MPE4903279 February 2, 2012
Amazing product. Those complaining about their ear phones not working after 2 weeks should really consider not coiling or wrapping their wires around tightly cause that will break the connection on anything (even video game wired controllers)

These headphones ROCK!! and I love that I can leave them in my iphone, listen to music and take calls with it HANDS FREE!!
View Details: Skullcandy FMJ Ear Buds w/Mic
Nailed It? 0 Yes
Tech Specs:
Material:

[housing] corrosion-resistant metal, (chrome) [cord] braided aluminum, (black/black) [cord] braided nylon, (shoe blue) [cord] braided nylon, (vintage road) [cord] braided nylon

Driver:

11 mm

Frequency Response:

16 - 20 KHz

Cord Length:

1.2 m

Recommended Use:

listening to rap and other kinds of music, maybe some books on tape

Manufacturer Warranty:

lifetime