Deuter Race Air Lite Hydration Pack - 360cu in - 2011
2011 Model No Longer Available
Deuter Race Air Lite Hydration Pack - 360cu in - 2011 BCS
Item # DTR0091
Deuter decided that they didn't have a small-enough pack for those who like to go ultralight. So they created the Deuter Race Air Lite Hydration Pack. It has only 350 cubic inches of cargo space that includes a 3 liter reservoir.
We've been stupid enough not to pack enough water on our rides. Part of it is certitude that our ride will be short. Really? Our spouses always disagree. The other part is that we over-estimate our camel qualities. And sometimes we're fooled by our larger packs. Just like closets, we find that if we carry a larger pack, we're usually going to fill it. And after all, a filled pack means we are ready for anything, even that trail that we've always wondered about and thenů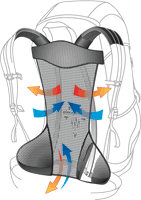 These are but a few of the reasons we like the Air Lite. It's small. It's light. It's got lots of water-carrying capacity. And that's before we get into discussing the Deuter Advanced Aircomfort System (AAS). Anglophones usually separate the two words, not Germans. And this is a very German pack. The AAS is composed of two parts: first there is a mesh screen. Second, the back of the pack (the part that is supposed to meet up with your back) has a rigid liner and is stitched to the mesh panel so that there is a curve to it, keeping the pack off the back but securing it to the back at the same time. The result is human back surface area exposed, which means less of the soggy back phenomenon that all packs are infamous for.
In terms of packing this thing, there is a main pocket, two front pockets, an elastic "stuff it" pocket, side shock cords for more stuff shoving, and a zip-out helmet holder. For security, all double-zippers have snaps on the pulls, so they can't be pulled apart without serious effort.
Deuter has chosen not to make their own bladder, but use one from Source, an Israeli company. Source calls it a Streamer Reservoir, because they feel that the bite valve allows pure easy flow like a mountain stream. The Z-Valve is a plastic valve covered by a soft rubber cover that is leak-proof. Bite, and the liquid flows. Let go, and the flow stops -- it's that easy. There is a plastic cover that protects the valve, though many leave it in the car when riding.The reservoir itself is made from a BPA-free polyethylene (PE) plastic that boasts a surface as smooth as glass. Smooth is important because the smoother the surface, the harder it is for bacteria to attach. In addition, the surface makes it harder for taste, like old Cytomax, to remain after the bladder has been washed. Beyond the glass-like surface, there's Grunge Guard, an anti-microbial coating designed to further keep mold at bay. Sealing the pouch is a bar-and-clip system that allows the bladder to be both opened completely and sealed completely, and is tough enough to be landed on without bursting.
The Deuter Race Air Lite Hydration Pack has mesh shoulder straps and waist webbing. There is both a sternum strap and hip belt. It comes with a 3-liter reservoir. The color combination is Lemon Titanium. Dimensions are 18" tall by 8" wide by 4" deep. With the included bladder, it weighs 995g (2.18 lbs).
Front zippered pocket keeps valuable safe
Elastic Stuff-It pocket holds maps and tools for easy retrieval
D Rings allow you to attach a full-face helmet holder (not included)
3L reservoir holds enough water for a 4-5 hour ride
Bottom Line:
Hydration without swampification.
Talk shop with all the gear freaks out there: ask 'em questions, upload/browse photos, and give your 2¢.
Hi, throw your review on the Product Wall to show your Gear-telligence.
Hi, got a question? Ask on the Product Wall.
By: Varaxis
May 17, 2010
I did a lot of research on which hydration pack to get since there's such a large selection. I settled with this Deuter pack due to the tech features, size, and price.

Deuter's design is leagues ahead of Camelbak's, Hydropak's, Dakine's, and all the other major brands. The effort they put in to prevent a soggy back is commendable, which is one reason I stopped using a Camelbak. Another reason I stopped using Camelbak is funk building in the reservoir. I prefer Source's simple open top which folds down around a bar/ridge and has a clip slide over it to lock it down--a much larger opening and I can refill it without taking it fully out of the pack. The slick anti-bacterial coating is a big plus. It's fairly minimalist and can hold my cable lock and reservoir in the main compartment; minipump, tube repair kit, minitool, wallet, and keys in the secondary compartment; camera and extra clothes in the tertiary compartment. I use the cargo straps to hold my shoes.

The only downside is that it doesn't come in better color schemes.

I checked out a Vaude review recently and that only reassured me that I picked the best pack. It was bigger, didn't have the twist on/off valve that this does nor a mud cap for the vavle. The Deuter is better shaped--sort of aero/thin at the top which helps it slip under low branches that you have to duck under. Most other larger packs have a squared box top.

I can't say enough about how much I like this pack. If it comes in a better color scheme that matches my other gear, I would be tempted to buy it again.
View all contributions... Be patient. It might take a while.