Castelli Aero Race Short Sleeve Jersey
Castelli Aero Race Short Sleeve Jersey
Item # CST0375
While all Castelli jerseys are designed to fit snugly; the Aero is designed to stick to your skin. It's a skinsuit of a jersey, saving you 10 watts compared to a normal jersey. That's almost a minute saved over 40k at 40kph. That kind of savings is a pretty heady promise. Thankfully, it is much more comfortable than a traditional spandex skinsuit top. That's due to the ultra-thin Velocity fabric in front and on the shoulders, and the mesh panel in back. Velocity is thin, light, breathes well and stretches well.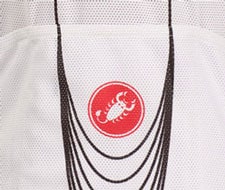 The jersey in your hand feels incredibly small. Your shoulder sockets and upper arms, when the jersey fits properly, seem to be bursting through the sleeves. The mesh panel takes in about half your from mid-shoulder blades on down. The pockets are mesh as well. The arms have Giro++ grippers at the end, which is a thin single layer of stretchy fabric that holds onto your arm without silicone and without pinching. The grippers are flat, and quite naturally, fast.
With this jersey, you can go two ways. One is to go with your normal size, and the jersey will look like it's painted on. Or you can size up a bit and still have a super-light jersey that looks a bit more "normal" though slightly less aero.
There are three pockets in back. The pockets are anchored by both the less-stretchy mesh back panel and the silicone gripper at the waist. The jersey zipper is 35cm in length, a size engineered to minimize drag. Like any ultra-engineered jersey, it might look a bit odd when you're standing up, but it looks perfect once you're on the bike. The Velocity fabric is treated with Prosecco to help improve wicking and speed up perspiration evaporation. The jersey has a claimed weight of 109g.
The Castelli Aero Race jersey comes in two color schemes -- Black/white and White/black. Sizes run from Small to XXX-Large.
Bottom Line:
Get the race fit of the pros.
Talk shop with all the gear freaks out there: ask 'em questions, upload/browse photos, and give your 2¢.
Hi, throw your review on the Product Wall to show your Gear-telligence.
Hi, got a question? Ask on the Product Wall.
Great great great
By: b1singh2421569
November 25, 2011
Combined with the Castelli Body Paint bibs, I wore this jersey during Furnace Creek 508 and never changed (34 hr, 500 mi in on kit...).Not a problem in the least. Breaths great. Nice sized pockets. Compression bands around the sleeves so movement is as it should be. Jersey is very tight all over, but not excessively so. I'm small-ish (5'9" @ 130lbs) and the S fits like a dream. Sure it may not be full-zip, but it doesn't matter. Only notice it when taking jersey off/on. With the material it never gets hot enough to warrant fully unzipping the jersey (but I've ridden it only in the upper 90s F).
Caution re: sizing
By: Pal4056662
March 8, 2011
The sizes run quite small. I usually order size large but large for this jersey fit like a size small.
When will the Small sizes be back for this item? :-)
When will the Small sizes be back for this item? :-)
Pro Caliber Jersey
By: Evan Murta
July 7, 2010
By far my favorite jersey that I own! Lightweight, breathes very well and is perfect on those really hot days. A mesh strip on the back of the jerseys allows air down your back keeping you plenty cool. However, it is very form fitting. I typically wear a large, but had to go for the XL to get a fit I liked. All in all worth the price.
I love Italy
By: TD68
April 12, 2010
Even though it is not manufactured in Itlay this top's quality is amazing, but be forewarned the fit is extremely fitted. I am a large in Giordana Forma nd this is even more fitted so you better be in shape.TD
View all contributions... Be patient. It might take a while.
Research out-of-stock versions: